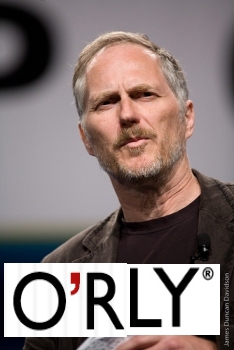 I maintain another blog called Open Season which is all about openness and open source. I've been using it to share links to articles, along with a sample quote each time. Each post takes 25 seconds or so with Tumblr.
I wrote about it here in June 2009. Just mentioning it again as some of the recent articles I've read have been splendid.
I make no claims to comprehensiveness there, it's just my own findings on themes related to openness. And conversely, closedness and proprietary systems.
I have a feeling these themes will come to define not only technology, but our wider culture and society in many ways.
If you want to follow a "proper blog" on this stuff, read Open by Glyn Moody.
And of course everything written by Tim O'Reilly and his colleagues is worth a read. (He's pictured here, perhaps questioning a future web that isn't small pieces loosely joined.)