I've cross-posted this post on Open Data Institute Cardiff blog as well. Thanks to David Wyn Williams for his invaluable help on the post.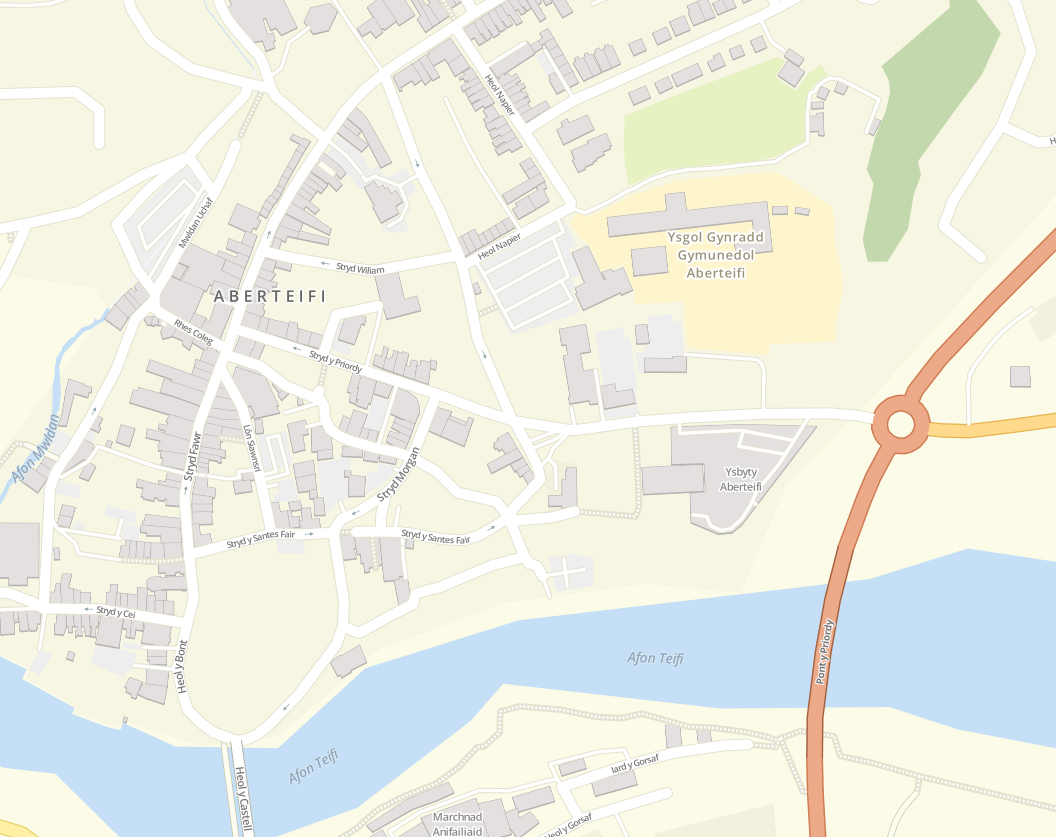 The draft map
Have a peek at this map of Wales, with place names in Welsh.
Many people have never seen place names in Welsh such as Aberteifi, Treffynnon or Aberdaugleddau on an online map – or indeed any map.
These names have been used for many generations until the present day, from conversations to road signs to media. The Welsh-language Wikipedia, known to its users as Wicipedia Cymraeg, has articles bearing these names.
Nevertheless they are not usually offered or recognised by the well known proprietary map providers.
In order to build a map in Wales' own language we at the project have drawn from freely licensed OpenStreetMap data, server software, and documentation. These are all the work of many contributors around the world, and to these people we are very grateful. We are also very thankful to the Welsh Language Unit of the Welsh Government who have funded this early work.
Building on the map
This is a draft map running on a prototype server. It gives you the ability to pan and zoom. As the developer on this project I am very pleased with the results so far.
I will introduce another feature very soon – the ability to embed this map on any website.
Nevertheless you might spot omissions or glitches while it's being developed, and some big areas for functional improvement.
As I write this we have received a bundle of very useful place name data from the office of the Welsh Language Commissioner, which is itself the fruit of years of dedicated work. This is comprehensive down to the level of villages, and licensed under OGL.
Improving the data
This section contains background if you are interested in improving OpenStreetMap place names and other data.
Imports of the OSM data happen automatically overnight. Some pre-rendering of map tiles is also done, to speed things up.
The ideal OSM data set for place names in Welsh would have a name:cy tag for every single item. We are not there yet.
In the meantime my system uses name:cy tags and some name tags.
name:cy has highest precedence. If you want to add a definitive name in Welsh to anything, edit the map on osm.org and add a name:cy tag. You will need to create a user account if you don't already have one. Provided your submission is accepted by the community this will guarantee its inclusion on the next nightly update.
Many name:cy tags already exist.
The challenge with the existing data is that some names that we want to use are currently only available from the name tag. That is, many places do not have a name:cy tag.
Understandably OSM contributors haven't tended to add an identical name:cy tag for Morfa Nefyn, Abersoch, and hundreds of other villages and places.
I've tried rendering different versions of the map using different criteria. Enabling all name tags somewhat ruins the ethos and magic of having a map in Welsh. Then huge tracts of Wales vanished when I removed the name tags again!
So I have set the system to use name for these types of places only:
'village'
'hamlet'
'town'
'island'
'neighbourhood'
'square'
'farm'
'isolated_dwelling'
'locality'
For other elements I also have a white list and black list, e.g. 'Ysgol', 'Capel' and 'Eglwys' are on the white list, among others. We will tend to want names containing those words.
name:cy currently overrides all of this however. Do please add name:cy tags via osm.org if you spot errors or gaps, and they will also be available to other projects around the world.
Use and applications in the near future
What you see now is just one possible app that uses the underlying map infrastructure to show a map of Wales.
Having a map like this introduces many exciting possibilities in:
learning
exploration
navigation
play
research
communication