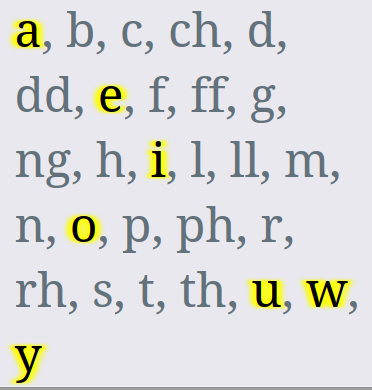 Yn cyflwyno'r Welsh Language Vowel Locator.
Dyma declyn defnyddiol iawn i'r rhai ar y Rhyngrwyd sydd ddim yn cydnabod bodolaeth llafariaid Cymraeg.
Mae trydariadau am y teclyn wedi bod yn hollol bositif hyd yn hyn!
do u require help tracking down welsh vowels https://t.co/D7t8kE2PNG

— Elena Cresci (@elenacresci) February 20, 2018
No more comments about the lack of vowels in the Welsh language … ever!https://t.co/7BJv2jp1FH

— Dilwyn Roberts-Young (@DilwynRY) February 21, 2018
Note to anglophones, 'w' and "y' are vowels in Welsh. In fact, we fail to see how they can be anything other than vowels.

I mean, how can you possibly see or hear 'w' (oo, u in English) & 'y' (the schwa) as consonants? No really, how? 🤔

'h' also sometimes counted as vowel https://t.co/DEO55h2qGy

— Siôn Jobbins (@MarchGlas) February 20, 2018
This is genius, for all those who struggle to find vowels in written Welsh, struggle no more with this handy Welsh vowel locator!
Words like cychwr, mwgwd, and ysbryd need not perplex you any longer, help is at hand! https://t.co/BIvpxbSho1

— Antwn Owen Hicks #FBPE (@Pibydd) February 21, 2018
Welsh language vowel detector. Ac i chi sy'n mynnu'r iaith, darllenwch y darn o farddoniaeth! https://t.co/TeyXsNNqay

— Leigh Jones (@leighsus) February 20, 2018
Mae'r cod ar Github.
Un arall o'r gyfres achlysurol #GorauArfArfDysg mae e.